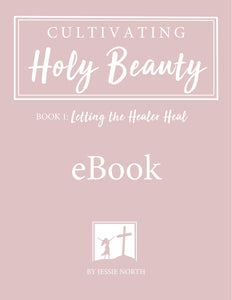 THIS DIGITAL PRODUCT IS NOT FOR SHARING AND IS PROTECTED BY COPYRIGHT LAWS. PLEASE BE ABOVE REPROACH AS EVERY PURCHASE HELPS TO FURTHER GOD'S PURPOSE THROUGH THIS DISCIPLESHIP MATERIAL.
BLESSINGS,
JESSIE NORTH, AUTHOR
Cultivating Holy Beauty can be done alone or in a group.  If you are navigating through it alone, just follow the "Participant's Guide" at the beginning of each lesson.🎉
"Hurt people, hurt people. Each of us carries wounds, whether caused by choices we've made or by no fault of our own." —Jessie North, "Letting the Healer Heal"
Book 2: Letting the Healer Heal dispels the myth that we have to live with this pain. You will begin the healing process by learning how wounds can be turned into lies, leading you away from God, resulting in bitterness and sin. In the process of encountering Jesus in your hurt places, you will finally walk in forgiveness and freedom by allowing Jesus to heal you.
Features:
Works great in GoodNotes App!
Wide margins for note-taking

Leader's Guide and Participant's Guide with each chapter

Tailored Leader's Guidelines and Resources

 
You are allowed one download per purchase.